Welcome to the new AWA!
The Advance Web Application (AWA) is the data entry system that supports implementation of the Advance teacher development and evaluation system. This tool allows evaluators to record and track observation data at both the teacher- and school-level, populate and print Evaluator Forms after observations, and automatically calculate both MOTP and MOSL scores and ratings.
The AWA has been fully redesigned for the 2019-20 school year with two guiding principles:
User-centered experience: Each type of user (teacher, principal, administrator) has an experience built specifically for them.
Collaborative design: Central Staff synthesized ideas and feedback from teachers, principals, and borough office staff and worked to build a standard process for user feedback.
This guide will help you navigate the new application, including tutorials on how to use the most frequently used functions within the app. You can use the menu bar on the left-hand side to jump to different sections or use Ctrl +F to find key terms, e.g., "IPC Form." Take note of the "What's Coming Next" section on the bottom of this site for functionalities that will be released in the next few months.
Dashboards
Feedback from teachers, principals, and borough office staff led to new ideas on how to present the most important information each user type needed upfront. So now, each user has their own landing page dashboard, specifically targeting their needs. We've also nested the various dashboards within each other. This means that a principal will have access to a teacher's dashboard view and a central-level administrator will be able to view both principal-level and teacher-level dashboards.
School-Based Administrator
The old dashboard isolated each action a school-based user would take as a separate function.
Old AWA Homepage
Now, school-based Administrators are provided with a dashboard that presents the workflow to follow when progressing through Advance activities for each teacher. The redesign highlights that many teachers are at different points in the Advance process throughout the year: the dashboard includes individualized summary and completion reporting for each teacher.
New School-Based Administrator Dashboard
Teacher eligibility, which can be confirmed individually or in bulk, must be confirmed before any further action can be completed for any teacher. Following eligibility confirmation, preselected observation options become visible. From this point, Teacher Practice and Student Learning actions can take place.
To learn more about Teacher Practice in the redesigned AWA, including how to enter observations,
To learn more about Student Learning in the redesigned AWA, including how to make school-level and teacher-level MOSL selections,
Clicking on an individual teacher on the dashboard will direct you to the Teacher Dashboard. To learn more about the redesigned Teacher Dashboard continue on to the next section of this guide.

Teacher
Teachers have a customized dashboard that will house all their relevant information in one place.
Teacher's Dashboards are organized in the following order:
Notifications

Teacher-specific notifications

In September the notification will prompt teachers to download previous year's ORR
Teacher Improvement Plan (if applicable)

Plan mimics the sections of the TIP Report
Available to download as a PDF
Teacher Practice (MOTP)

Details of observation option
Copies of confirmed observations
Observation average to date
The ability to download IPC form and MOTP reports, and view MOTP score tracker
Structured Review Plan (if applicable)

Plan and meeting schedule
Ability to download SRP report

Student Learning (MOSL)

Teacher Level MOSL Selections
Ability to export selection report to Excel
Can review course/sections from STARS that are linked to each grade/subject by clicking on the hyperlinked grade/subject in the table
Central Administrator
Central administrators, particularly borough office staff and district administrators rely heavily on Excel and Tableau completion reporting to support schools. This has required several clicks in the application to get to the correct reports. And for users with many schools, some reports require long loading times.
Old view of the AWA
The redesigned admin dashboard presents completion information upfront. Information for all schools can be viewed at once, organized by DBN, or filtered to view individual schools. The Teacher Practice columns are divided into the new Fall and Spring observation windows. The Student Learning columns are divided into School-Level and Teacher-Level Completion.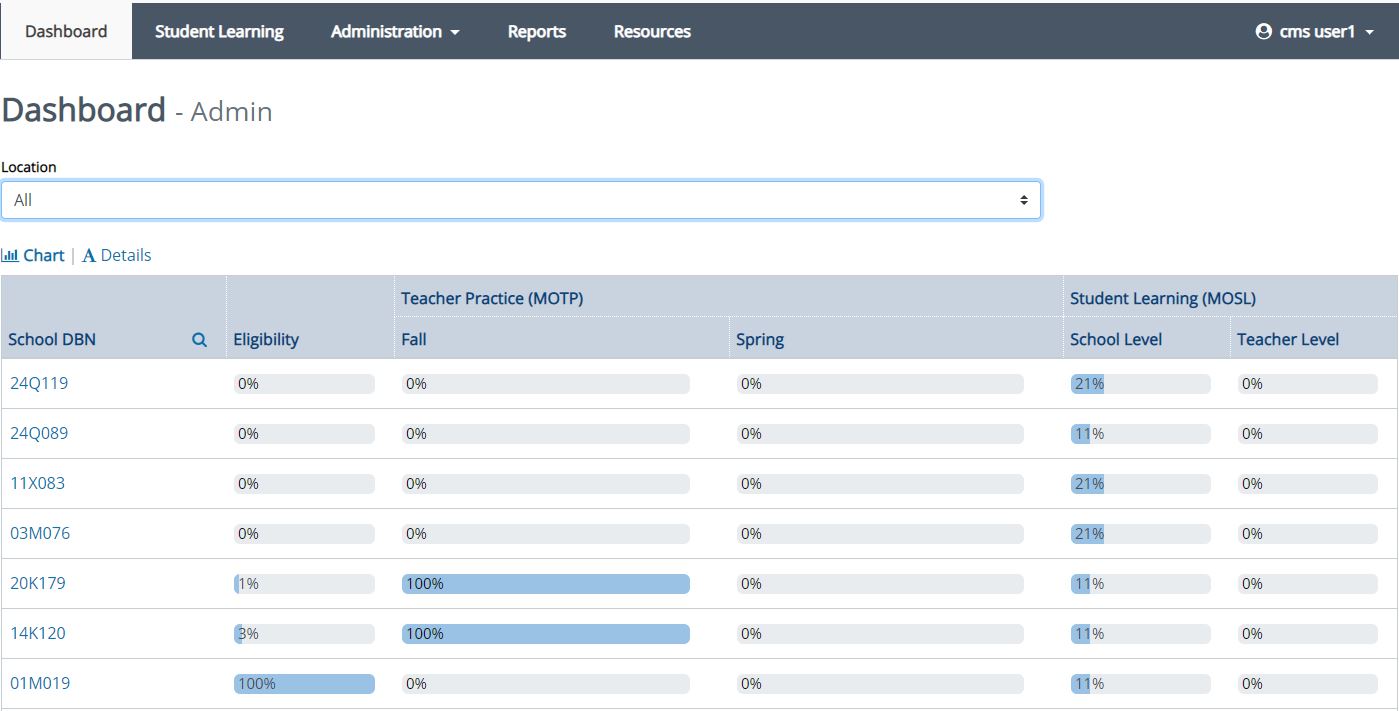 New Central Administrator Dashboard
Hovering over any of the completion bars will provide detailed information for what the completion percentage represents. Specifically:
Eligibility displays total teachers confirmed, including a breakdown of # confirmed eligible and ineligible

Teacher Practice (MOTP) displays total formal and informal observations completed, total structured reviews completed (if a PROSE school), and total observations remaining

Student Learning (MOSL) displays total school-level and teacher-level selections completed
By clicking on an individual school, central administrators can view eligibility, observation options, observation data, and MOSL data for each individual teacher on the School Administrator Dashboard.
Admin Dashboard with school selected
Teacher Practice (MOTP)
Old MOTP Ratings Screen
The new Teacher Practice (MOTP) section lives on the school-based dashboard and is divided into Fall and Spring observation windows, during which a minimum number of observations must be completed according to a teacher's preselected observation options. The focus is now on the completing workflows for individual teachers.
School Admin Dashboard, Enter MOTP Ratings
Completion bars default to gray, changing color according to progress as the bars fill up towards completion. Once observations have been entered, hovering over the bar will display observation type and completion statuses. A summary of a teacher's entered observations, including observation type, evaluator, and observation date, is visible by clicking the double arrows next to their completion bar. From here, a PDF version of observations can be accessed by clicking the "View" button, including any associated attachments. A teacher's Observation Average to Date will also eventually display within their Teacher Practice section.
During the Spring observation window, the number of remaining unrated components will be displayed in red circles. Clicking on the MOTP bar for a detailed view will display the specific missing components.
To Enter a New MOTP Observation:
Step One: Confirm Eligibility

Teacher eligibility can be confirmed in bulk or individually. In bulk:

Click edit button (pencil icon) next to "Eligibility" in the column header
Check "Teacher Name" in head to confirm all teachers or
Check next to each teacher's name and select specific eligibility status
Click "Confirm"

To confirm eligibility individually:

Find teacher's name
Click edit button (pencil icon) next to "Eligibility."
Select eligibility status
Click "Confirm."

Step Two: Enter Observations

Click on the double arrows next to the number in the Spring observation window column of the Teacher Practice (MOTP) column
Click "+ Add MOTP Observation"
Fill out (required): date, observation type, evaluator, time/period, at least one rating, and evidence of at least one rating
Click "Save & Exit" to save observation as an in-progress draft or "Confirm" to compete the observation and make it available for teachers and central staff to view
Note that administrators with view-only access will not see the "Add MOTP Observation" button in the video above and will instead have a view like the one below.
Clicking on a teacher's name opens the Teacher Dashboard, more information on which can be found below.
Student Learning (MOSL)
The Student Learning (MOSL) tab, located on the top menu, is arranged in workflow order, with School Level Selections preceding Teacher Level Selections.
School Level MOSL Selections
Click on the edit button (pencil icon) to make/edit selections for the various grade/subjects on the School Level Selections tab.
Teacher Level MOSL Selections
Clicking on the Teacher Level Mosl Selections tab will allow you to view, edit, and confirm selections for each teacher.
Clicking on the pencil icon on the right-hand side will display an individual teacher's grade/subjects, which you can edit or confirm from this view.
Scroll down on the Teacher Level MOSL Selections page to export teacher level selections to Excel
Teacher Level MOSL Selections are also viewable from the School Admin dashboard. Clicking "Edit Student Learning (MOSL)" will redirect to the Student Learning Tab.
For more detailed instructions on the MOSL Selections process, please review the MOSL Selections Guide.
Administration
Manage User Roles & Access
Accessible via the Administration tab on the menu, the Manage User Roles & Access page is very similar to the previous version. Click on the "Assign Users" button to provision a user with a new role.
A pop-up will appear prompting you to select a role, location, and staff member.
Quick Tip: When finding the username in the drop-down, do not type their full name. Start with typing in only their last name and then scroll to find the correct person.
For more information on AWA user roles, functionality, and how they are assigned, click here.
Reports
Reports previously available in the AWA can be found on the Reports tab of the redesigned version.
In addition, administrators can bulk download all teacher IPC Forms via the "IPC Form Report" found under the "Overview" section.
Resources
New for the redesign, the Resources section has links to the most relevant resources tailored to each user type.
What's Coming Next
Over the course of the school year you will see new functionality added to the AWA. Here is what you can look forward to in the next few months:
Early Fall:
Selecting Location:

Type School Name: The location drop-down will allow users to type in school name to search for the desired location. Currently the app supports typing in the DBN only.

Dashboards:

School Completion Metric on the School Dashboard: School-based administrators will be able to see completion metrics for all Advance activities at the school-level on their dashboard.

MOSL Selections:

Teacher Level MOSL Selections Sortable by Last Name: Teacher Names will be sorted by Last Name, First Name (currently sorted by first name).
Late Fall:
General:

Single Sign On (SSO) Integration: Users will log onto the AWA using single sign on, which means they will only need to log onto DOE systems using SSO (like the Infohub) once during a session.

MOSL Selections:

Teacher Level MOSL Selection Export: The TLMS export will include teacher-level details